Our team of wastewater engineers are all specialists in wastewater treatment and environmental technologies, and on each project we lead, sound sizing-scaling and landscape integration are top of the agenda.
With a built portfolio now approaching 180 references, our construction-project expertise is a major asset::
integrating on-ground completion-related constraints right from the upstream project design phases enables us to propose the best and most rational solutions possible.
---
This is why we attach the utmost importance to :
– The graphing of the in-depth hydrological profile
– The choice of treatment process system
– The reliability of the technologies employed
– The quality of the materials used
---
---
Scaling and Sizing
Precise, accurate results are crucial, so we develop structural design tools for decision support on scaling and sizing, hydraulic profile graphing, and pulsed-batch dose and pipework head loss modelling.
These structural design calculations are then verified via hydraulic field tests on our installed base as part of our continual model improvement strategy.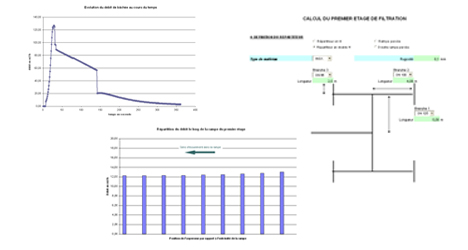 ---
Footprint Mapping
Structural organization and layout are analyzed in detail. We use appropriate software solutions—including advanced modelling software—to get a concrete picture of each project and double-check that it seamlessly integrates the surrounding landscape.